Simply with a love of quality. ❤️
SHARPENING AID FOR SHARPENING RODS
protects your knives from scratches

perfect complement to IOXIO sharpening rods

constant angle between blade an sharpening rod
The simple solution for learning or improving the perfect sharpening with a sharpening steel. The worldwide unique sharpening aid IOXIO® SHARP GUIDE. Sharpening has never been so easy, available in three different angles.
place the FIX on the edge of the table, so that the cross ceramic protrudes

hold the blade of your knife in the open intersection and pull it through from top to bottom

repeat the sharpening process a few
Simple and effortless sharpening! With the IOXIO® FIX you can sharpen your knives very quickly.
Our tip for hot summer days: freshly squeezed orange lemonade with ice cubes and mint.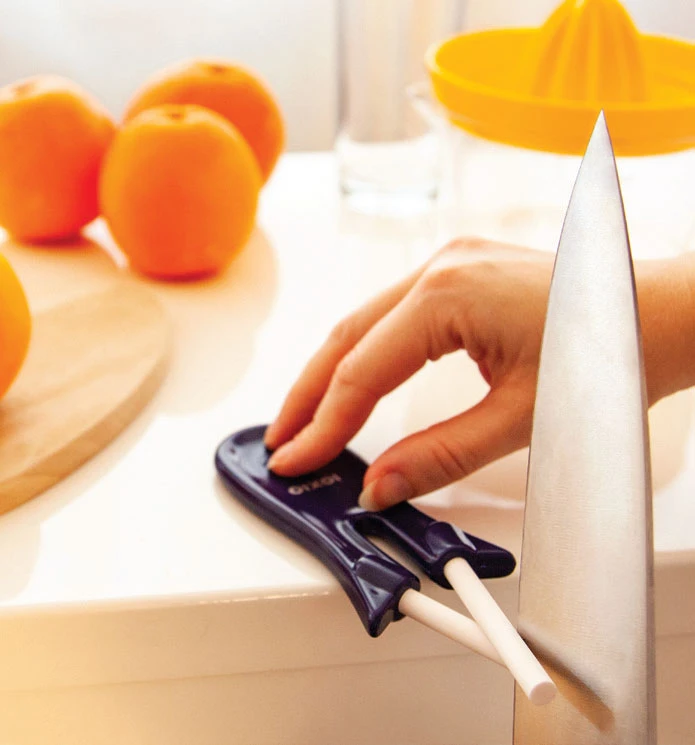 IOXIO® Ceramic Sharpening Rod Duo

IOXIO® Ceramic Sharpening Rod Blue
Ordering from IOXIO with free shipping
IOXIO is all about making our customers all around happy. Our products are produced with love and care in small badges in our machine supported manufacture. Every product goes through meticulous and skilled hands – up until fulfilment, which is still done in-house, and makes it harder for us to scale with shipment companies. However, making ordering through our online shop easier for customers was important for us. That is why we are happy to inform you that end customers now order with FREE SHIPPING within Germany and an order value over 50€!
On the green side of life – Entwicklung zur Nachhaltigkeit
As a family-owned small business, sustainability and environmental protection are close to our hearts. IOXIO stands for a green product philosophy where we focus on the production of high quality and highly durable sharpening and other household tools. We make an effort to resource our raw materials carefully and from certified EU-suppliers only. The production in the heart of Europe in a machine supported manufacture with small batches and recycled materials helps to reduce waste. We want to do our part for a more sustainable and circular economy.
The High Tech Ceramic Rieser GmbH is the leading manufacturer of ceramic sharpening products for sharpening knives as well as ceramic care products in the beauty sector. We are the inventor of the sharpening rod made of ceramic as well as knife sharpeners with ceramic rollers. We manufacture the abrasives in different grit sizes. In the beauty sector, our focus is on foot rasps and nail files also made of ceramic. Ceramic is a natural product which we source in Germany.
Our production is a machine assisted manufactory. Our focus is knife sharpeners made of ceramic and plastic. Our know-how lies in conversion of aluminum oxide into sintered ceramics. The raw material corundum is a natural product, which we source in Germany. Corundum is a mineral that is ideal for abrasive grinding media due to its high hardness and abrasion resistance. An automatic machine production of our products is not possible. Many process steps are done by hand and with great care. Our sharpeners, knife sharpeners, foot rasps and nail files are made by people. Our goal is to develop and mass produce high quality products. Functionality, design and sustainability have formed the basis of our success for over 40 years.
How do sustainability and plastics go together?
Our understanding of sustainability meaningful and functional products with long lifetimes without long transport routes. With our sharpening rods you keep your cooking knives permanently sharp. Do not buy new (cheap) knives but sharpen your high-quality cooking and kitchen knives with our ceramic knife sharpeners. Our products hardly wear out. The ceramic of the sharpening steels is made of solid material. The ceramic of our knife sharpeners will last a lifetime under normal use - if it doesn't fall off. Keep in mind that many sharpening steels are shipped around the world several times before you can buy them in Europe for little money. We are against disposable and against cheap imported products that do not deliver what they promise.
IOXIO® is the official brand direct from the manufacturer to your home. We develop and test all our products in Germany and produce them in our own production.
Welcome to IOXIO® store- Our products make your life easier!