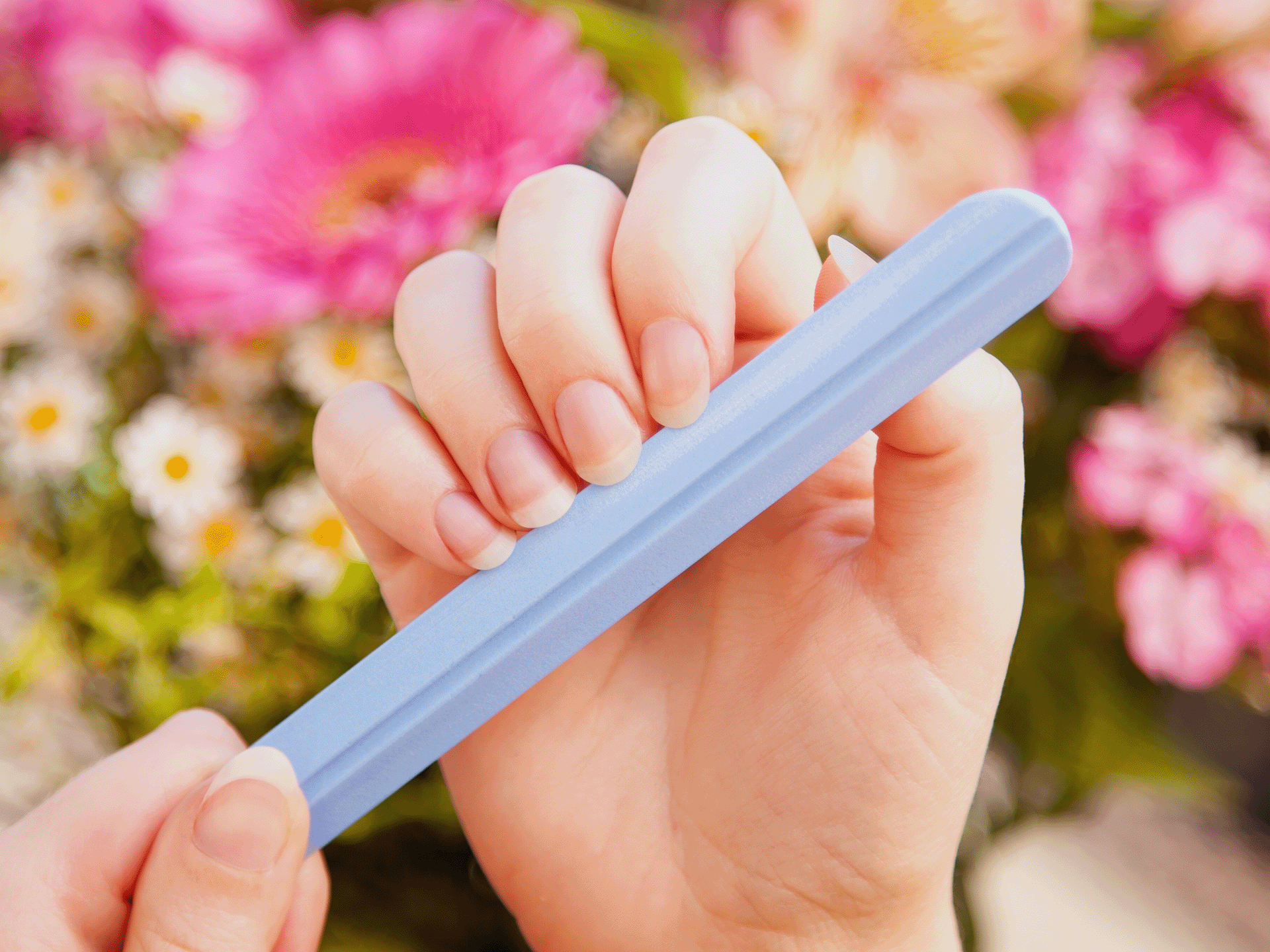 Nail Files
The long-lasting alternative to sandpaper, metal or glass files is a worthwhile purchase for anyone who attaches particular importance to gentle treatment and particularly durable results in nail care.
IOXIO® nail files are made of high-strength ceramic. Thanks to integrated guide grooves fine- and coarse-grained filing surfaces you will achieve a professional result in no time.
Many of our products also have a nail cleaner with skin pusher combination.
A good nail file buy cheap? You can get them at your local dealer or directly online from the manufacturer.
Why is ceramic simply the better material for nail files? Thinner edges, coarse and fine grit, guide grooves and less fragile than glass files. More advantages of a ceramic nail file can be found below in the FAQ's.
---
---
---
Nail File FAQ & Know How
Nail files can be made of sandpaper, glass, metal or ceramic. IOXIO® ceramic files are made of sintered aluminum oxide ceramic which is provided with corundum.
Nail files made of sandpaper, glass or metal usually have 1 to 2 different grinding surfaces. Ceramic files consist of different grinding sides, we achieve this by using different proportions of corundum. A blast furnace fuses corundum and aluminum oxide ceramic into one unit. The resulting surface is closed and particularly abrasive due to the corundum. The unique grinding effect ensures a smooth result.
Our ceramic files are designed for maximum application possibilities, thus avoiding the use of different products and producing a high quality long lasting product. We achieve this by making our IOXIO® nail files have different file sides, a guide groove and thin edges. This is where we differentiate ourselves from inexpensive ceramic files. These are usually pressed, have only a simple shape and are not provided with additional corundum. IOXIO® ceramic files are characterized by easy handling.
A file is best suited for gently shaping your nails. Fine-grained ceramic files are ideal for gentle shortening. Avoid coarse files made of steel, as the risk of splintering increases.
To prevent your nails from splintering, always work from one side towards the center of the nail. Guide the file in long movements straight over the edge of the nail.
If you cut your fingernails with scissors, they can splinter and break off more easily. Experts advise against this. If you still want to shorten your nails as quickly as possible, use nail clippers or special nail nippers. Since cutting or clipping often results in uneven edges, file them off afterwards.
After use, ceramic nail files can be cleaned under running water. The hygienic product is durable and suitable for diabetics as well.
The grit for nail files 180 and 360. For sensitive nails, which are especially soft and prone to nail splitting use a high-quality file with fine grit. A coarse grit will harm sensitive fingernails. There are ceramic nail files that have three different grits.
Our contribution to sustainability: The Triple PROfile and the Sensi File are a long-lasting replacement for sandpaper files. And they are not only good for the environment due to their long service life: We have deliberately not used plastic for these two products. Thus, the nail files can be heated strongly without any problems to be hygienically clean afterwards.
How do ceramic nail files work?
With the coarse-grained filing surface you achieve fast shortening of the nails. With the fine-grained filing surface, you can close the fingernails and thanks to the integrated guide grooves, you can effortlessly bring them into shape. The grainy ceramic ensures a particularly fine grinding effect and thus a smooth result. Some ceramic nail files have reversible handles that ensure easy handling. Many products have an additional nail cleaner with skin pusher combination.
What is the advantage of ceramic nail files over cheaper glass nail files?
Instead of abrasive grains, the filing effect of both file types is created by small spurs on the surface. Both models are durable alternatives to conventional nail files made of sandpaper. But what is the main difference?
Thinner edges with optional guide groove
Glass files have a minimum thickness of about 3mm so they do not break. The profile is always flat. Ceramic nail files have much thinner edges which allow gentle application even on shorter fingernails. Depending on the model, the file blade is curved and contains integrated guide grooves.
High quality and fine grain
The fine abrasive particles are already added to the raw material in qualitative nail files.
Less fragile
At least European ceramic nail files are sintered from high-quality oxide ceramic. The raw material used in medicine even for hip prostheses, making it much more durable than glass. Of course, ceramic nail files can also break.