Scissors
IOXIO® kitchen scissors are multi-purpose scissors and therefore true all-rounders in your household.
Thanks to their ergonomic design, you can effortlessly cut paper, cardboard, flowers, herbs and easily open screw caps, bottles and even nuts. Kitchen shears are not only super handy in the household but also ideal for kitchen work, BBQ, camping, parties, vacations or travel. All kitchen shears are easy to clean. Our premium scissors are easy to take apart.

Buy a good kitchen shears? It's best to consult your local dealer or get information directly online from the manufacturer.
Extra tip: We recommend the storage on a magnetic bar.
---
---
---
Why a good kitchen scissor?
With a good pair of kitchen scissors you can effortlessly cut paper, cardboard, flowers, herbs and easily open screw caps, bottles and even crack nuts. The micro serration on the cutting edge holds the cut material and prevents slipping. The stainless steel cutting edge is extremely hard with 56 HRC. With a high-quality kitchen scissors you have much more functions than with a cheap alternative. Our scissors replace numerous other devices in the kitchen as well as in the household.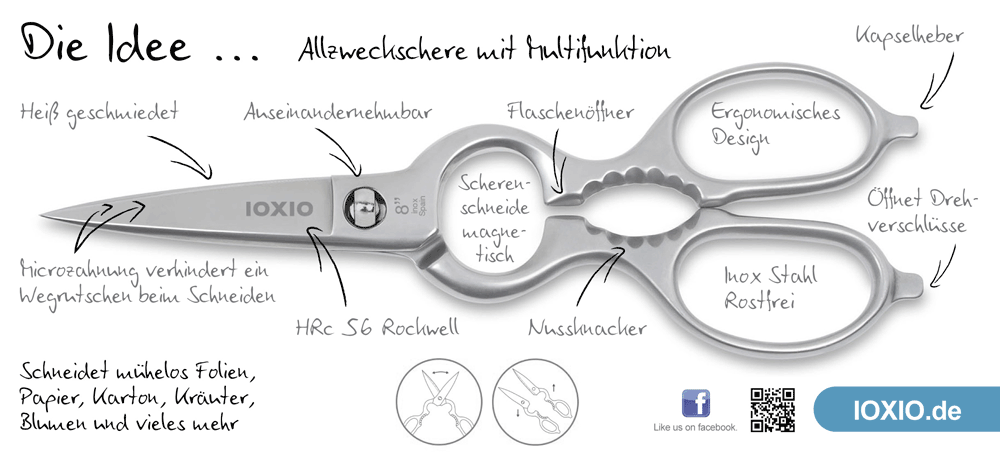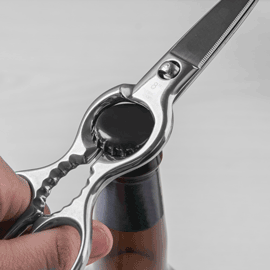 Kitchen scissors as bottle opener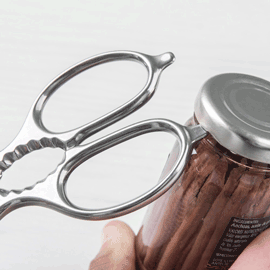 Household scissors as cap lifter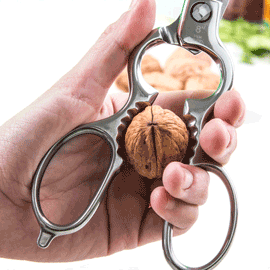 Scissors as nutcracker
FAQ - Kitchen Scissor
Clean a pair of scissors under warm running water after using them with food or sticky as well as wet materials. Dry the scissors with a soft cloth after cleaning. Make sure the nail is dry to avoid flash rust.
Caution: Do not leave your scissors wet or clean them in the dishwasher!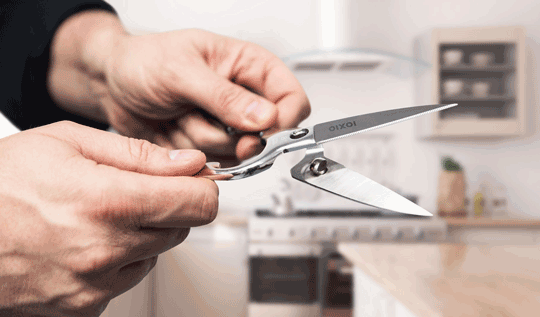 High-quality forged kitchen scissors and chef's knives do not belong in the dishwasher. The detergent is very aggressive and will etch the blade with each rinse. Oh with scissors from high-grade steel the cut adherence becomes smaller from Spülgang to Spülgang. Also, so-called flash rust can occur if base material is in the vicinity.
Flue rust is caused by other products that release small amounts of iron in the rinsing process. These can be screws and rivets, for example, such as those found on pots. These are often less pure in the steel and release small parts via the water, which in turn can settle on the shear blade. There are no qualitative disadvantages due to the flash rust.
The best kitchen shears are made of hot forged stainless INOX steel. INOX is also known as stainless steel. The high-quality material lets a pair of scissors become corrosion-resistant, strong and extremely sharp. The precise grinding ensures exact and easy cutting in the kitchen. High quality scissors can be re-sharpened and adjusted by a professional.
The best kitchen shears are made in Spain and in Italy.
These are old established family companies with a long history of tradition in the production of household scissors in kitchens.