About IOXIO®
At the end of the 70s, Udo Rieser developed his own knives and scissors under the name "Rieser Messer".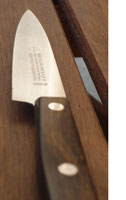 The "Rieser knives" were of course "Made in Solingen" and were successfully sold by him personally and his partners. In order to expand his product range, Udo Rieser began developing the first ceramic sharpening rods in the early 80s. Knife sharpeners "harder than steel" were his goal. He recalled that his grandmother used to sharpen her knives with the underside of plates. The untreated side of plates made of ceramic showed no glaze at all and was therefore the perfect material for sharpening dull knives. So it was obvious that his development went in the direction of ceramic sharpening rods. Ceramic is harder than steel and at the same time a natural product, these two points resulted in the first ceramic sharpening rods.
A ceramic sharpening rod is only as good as the person who uses it.
From this experience Udo Rieser developed manual ceramic knife sharpeners. His ceramic knife sharpeners are very easy to handle and at the same time they have the optimal sharpening angle. His breakthrough came with the ceramic sharpening roll.
The ceramic sharpening roller
Udo Rieser invented and co-developed the first ceramic knife sharpener and the first ceramic nail files and ceramic foot rasps in the world.
Original sharpening roll: Udo Rieser wins the gold medal for a ceramic knife sharpener in 1988 He achieved the breakthrough at the Inventors' Fair in Geneva in 1988. There he convinced with a knife sharpener made of ceramic and won the gold medal: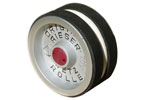 The original Rieser sharpening roller made of ceramic. The knife blade sharpened by the movement in the ceramic profile of the sharpening roller. The optimal angle for sharpening dull knives results from the patented ceramic profile of the knife sharpener. The application is very simple. A rolling motion makes the sharpening roll ideal for hobby and professional chefs for a good and safe sharpening of high-quality kitchen knives.
Since then, Udo Rieser and his team have been producing durable products. Due to their quality and innovative designs, the Rieser team is still a market leader today.
The success of the sharpening roll leads to numerous patents and design patents in the categories in the coming years: