What is oxide ceramic?
Oxide ceramic is aluminum oxide sintered at high temperatures. Natural occurrences: corundum, sapphire, ruby. These natural minerals consist of 99% aluminum oxide. Alumina is naturally colorless. The slightest admixtures of chromium oxide cause red tones ("sinter ruby"), the addition of cobalt oxide creates our blue grains ("sinter sapphire"). In the medical-technical application area (prosthetics), colorless / white mixtures are preferred because they are absolutely bioneutral. Colorless oxide ceramics are also used in high-performance machine construction.
Why do we produce oxide ceramics?
... for knife sharpeners?
Oxide ceramics are harder than steel!
Rub a hard object against a switch. The softer material wears out, the hard material remains intact. Since this "ceramics" is much harder than steel, it is ideal for sharpening European and even the harder Japanese steel knives.
... for nail and foot care?
Oxide ceramics are durable, have a closed surface, are bioneutral and can be disinfected. It maintains the care properties without wearing out. Would you still want to take care of your feet with a 10 year old metal rasp?
IOXIO or 10 × 10 = 100% Quality
IOXIO is a registered trademark in household procuts made of oxide ceramic (Original Ceramic), plastic and wood
IOXIO celebrated its 10th birthday in 2017 with the reprint of the first ceramic Wetztsabe by inventor Udo Rieser from 1990.
IOXIO is "Made in EU" - We produce exclusively in Europe
IOXIO stands for innovative products in modern and ergonomic design in premium quality.
IOXIO is increasingly focusing on sustainability in production, packaging and sales offerings.
Together with grinding masters and certified hand/foot caregivers, we develop durable and useful products for everyday use.
Happy and satisfied customers are our most valuable honor.

Under IOXIO we sell the following products from our own production: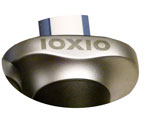 In 2007, IOXIO launched the world's first ceramic duo Wetzstab. A further development of our team. It combines two different grains in one rod. Sharpening and fine-tuning have been possible since then with a single ceramic wetz stab. Today, the Duo Sharpening Rod is available in multiple versions. Our flagship is the Duo Sharpening Rod with the exclusive olive wood handle. IOXIO stands for high-quality products of the highest quality as well as modern and ergonomic design.