Know How
Know How
Which sharpening rod is the right one?

Choosing the right sharpening steel
When selecting the sharpening rod, the grit must be taken into account. The higher the grit number, the finer the grinding steel. We at IOXIO® differentiate between the grains by different colors.
Do you need help with the right sharpening with a sharpening rod?
Then try our sharpening aid IOXIO® Sharp Guide.
It helps you sharpen your knives and protects the blade from accidental scratches caused by misuse.
Sharpening aid for sharpening steels:

IOXIO® Sharp Guide
The simple solution to learning or improving the perfect sharpening steel edge..
Constant angle between blade and sharpening rod when sharpening

Protects your steel knife blade from scratches caused by misuse

Perfect addition for inexperienced and insecure cooks
Fits round sharpening rods with a diameter of 13.5mm and 14mm and knife blades up to 3mm thick
What grinding aids are there?
Sharp Guide 30° for knives with a cutting angle of 30° (grinding angle 15°)

Sharp Guide 35° for knives with a cutting angle of 35° (grinding angle 17.5°)

Sharp Guide 40° for knives with a cutting angle of 40° (grinding angle 20°)
Sharpening knives correctly - angle guide: Sharp Guide
Sharpening blunt knives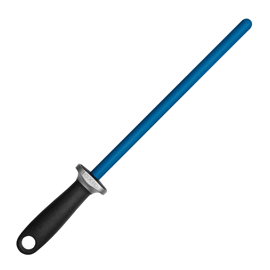 Grit F360/J800
normal/rough
Japanese knives, damascus steel knives, carbon steel knives, fine tuning, knife lovers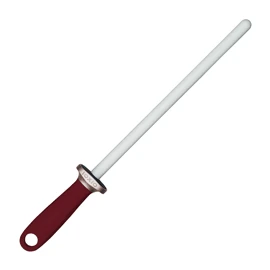 Grit: None - pure Al2O3
professional use
Regular re-sharpening, fine grinding, Damascus steel, carbon steel and Japanese knives
Japanese knives, Damascus steel knives, carbon steel knives, fine grinding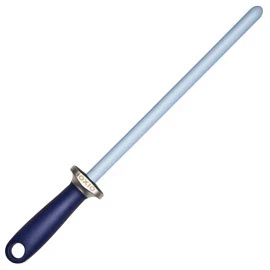 Grit F1300/J4200
very fine