Knife Sharpener
With 50 years of experience, IOXIO® develops high-quality ceramic knife sharpeners and sharpening rods. Our practical knife sharpeners are intelligent sharpening systems for kitchen, household or backpack. With predetermined sharpening angle, they are ideally suited for small knives in the kitchen and household can be used in the hobby area anywhere where a sharp blade is needed. Our the sharpening elements of our Pull-through knife sharpener sharpen with ceramic which is why the wear is very low and the knife sharpener lasts almost a Lifetime.

Buy a good knife sharpener cheap? It is best to buy at your local dealer and get advice or directly online at the manufacturer.
---
Knife Sharpener FAQ & Know How
The Multi IN Sharpener combines different sharpening systems. It is a pull-through sharpener and a compact sharpening rod with guide grooves in one foldable product.
You can either a) sharpen your knife on a ceramic sharpening rod or b) pull through knife sharpeners. The sharpness is created abrasively by material removal along the blade in the cutting direction. The specially developed shape of the sharpening rod has two integrated guide grooves and an elaborate sharpening rod tip with which you can sharpen fish hooks, needles, carving and special tools.
The rotatable ceramic rollers are already inclined and fixed at a sharpening angle. When the blade is pulled through the sharpening system, the blade is thus sharpened. The shape of the tapered rollers allows different blade thicknesses to be pulled through and at the same time prevents damage to the blade caused by too much pressure.
MultiIN is a small sharpening rod and pull-through sharpener in one. It can easily sharpen carving and special tools, needles and fishhooks, pocket knives and kitchen knives.
The ceramic sharpener has guide grooves for special cases like fish hooks but is also ideal for small knives like pocket knives. The pull-through sharpener with tapered rollers made of high quality ceramic allows sharpening at a predetermined angle.
---
---
What are the differences between knife sharpeners and sharpening rods?
Knife sharpener or sharpening systems are the general terms. We offer
knife sharpeners to pull through
, to roll through with taper rollers as well as sharpening rods to sharpen the blade.
Are you looking for a solid ceramic sharpening rod in different grits and lengths? Then check out our
sharpening rods
category.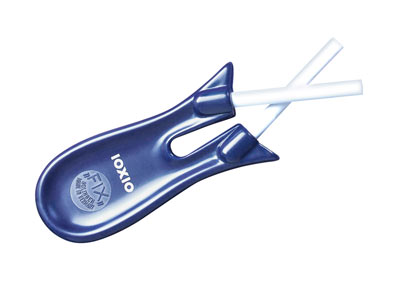 How do I use the Fix knife sharpener?
Just place the knife sharpener Fix on the edge of a table so that the crossed ceramic protrudes.
Hold the blade of your knife in the open crossing and pull from top to bottom through.
Repeat the sharpening process a few times.
Is there a manual for the knife grinder fix?
No, for the IOXIO Fix Sharpener you do not need expert knowledge about knife sharpening, no tutorial or study long instructions. The handling is very simple and your knife is quickly sharpened. It doesn't matter if your knife is big or small. Just put your Fix over the edge of the table and pull the knife through the crossed ceramic. This illustration shows you how it works.

Where can I buy a knife sharpener Fix?
Thanks to its crossed ceramic rods, which are already attached at a predetermined grinding angle, you do not need to pay attention to anything other than pulling the knife blade straight through. The flat handle allows for easy and safe handling. No cramped holding or gripping is necessary. Simply lay the handle flat on the edge of the table, fix it with the flat of your hand and relax while pulling the knife through. The material of the ceramic rods is perfect for sharpening dull knives. It allows the metal of the dull blade to be removed and the blade to be resharpened in one.
All this makes the Fix a lightweight knife sharpener.
Get you Fix at your local dealer in your are or directly here in our IOXIO Shop
Why knife sharpener from IOXIO?
High Tech Ceramic develops and produces high-quality ceramic sharpening systems on behalf of customers. Under IOXIO® we directly offer a foldable knife sharpener with integrated ceramic sharpening rod and taper roller technology. We also have a particularly practical ceramic pull-through sharpener. Take a look at our ceramic knife sharpener range and convince yourself of the wide range of applications.
How are IOXIO® ceramic knife sharpeners tested?
IOXIO® ceramic knife sharpeners always perform well in tests. The offers in our IOXIO® store are the best proof of this. You will find inexpensive ceramic knife sharpeners for different purposes. IOXIO® ceramic knife sharpeners offer highest quality in a reasonable price segment. Especially popular are our foldable knife sharpeners, because they can be taken anywhere without any problems.
Our folding knife sharpener for sharpening pocket knives is especially popular with campers. A handy knife sharpener also gives hunting knives a sharp edge. The pocket-sized Multi IN knife sharpener has guide grooves to sharpen fish hooks before using them for fishing. For a fillet knife, you can use the handy knife sharpener Fix keep sharp. Simply place the Fix knife sharpener on the edge of the table and pull the knife through the two ceramic sharpening elements. The sharpening angle is predefined for all our practical knife sharpeners.
In every knife sharpener test, IOXIO® ceramic sharpening rods and knife sharpeners perform well and there is a reason for that. High-quality ceramic - just convince yourself and do the knife sharpener test with IOXIO® ceramic knife sharpeners.
Ceramic knife sharpener sharpen by material abrasion!
Always sharp blades. Our knife sharpeners are made of aluminum oxide ceramic. They combine the hardness of the whetstone with the shape of the traditional sharpening steel. The ceramic grinding surface achieves material abrasion on the blade, sharpening it and reshaping it on the cutting edge. IOXIO® knife sharpeners are not coated. They are made of a full ceramic sharpening rod and wear out during sharpening almost not.
Order ceramic knife sharpener online - directly from the manufacturer IOXIO®
Knife sharpener for outdoor or in the home kitchen. Practical ceramic knife sharpener for pocket knives in the backpack or for kitchen knives in the kitchen drawer in the office or in the garden shed. IOXIO® ceramic knife sharpeners can be used everywhere to keep your blade sharp and to sharpen it. Here you can order your ideal ceramic knife sharpener online. We offer you pleasant customer conditions and reliable shipping service.
More tips and instructions on the proper use of a ceramic knife sharpener we have compiled in our FAQ.